FOOTBALL IS BACK!
For sports fans in Houston, football season can't start fast enough. The Astros are destined to finish as the worst team in baseball for the second season in a row, the Rockets are in complete disarray and are praying that Linsanity will still be a thing come Halloween, and the Dynamo, well not enough people care about the Dynamo yet (which is a shame because they're actually winning).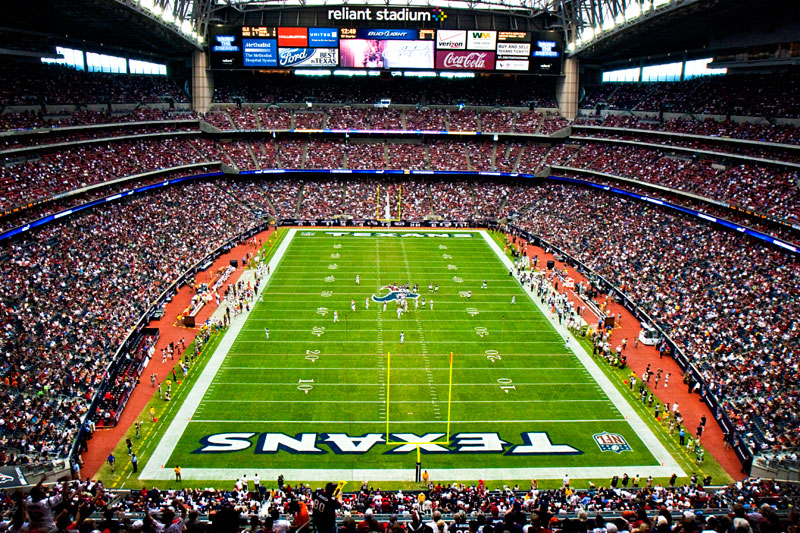 Houston is a bandwagon town when it comes to sports, our fans are front runners, we shine brightest when our teams win. There just hasn't been any bandwagons to jump on lately. Come Sunday though, football is back and the Houston Texans are Super Bowl contenders. Welcome back to sports relevancy Houston!
So to celebrate the start of the 2012 Texans season here are my Five Bold Texans Predictions For 2012.
1. One of the Texans young receivers will claim a starting spot by Week 6.
Depth at the wide receiver position was arguably the greatest concern for Texans fans this offseason. Never mind Matt Schaub's foot, Arian Foster's opposition to meat and Andre Johnson's… well… head, shoulders, knees, and toes — the fans wanted new receivers!
After losing AJ for most of the season last year and the overall disappointment that was he-who-sha'll-not-be-named (Jacoby Jones), the Texans drafted two receivers in Ohio State's DeVier Posey and Michigan State's Keyshawn Martin. The team also brought back talented youngsters Lestar Jean and Jeff Maehl, both of whom showed promise last season before being lost to injuries.
After a strong preseason from both Martin and Jean, the two young receivers will be expected to immediately contribute to the Texans' already potent offensive unit going in to the season. In fact, despite both Andre and Kevin Walter being firmly entrenched as the starters, one of the two young receivers' performance will allow them to claim a starting spot near mid-season.
It's hard to say which of the two receivers will be the one to take that leap into the starting lineup but for the sake of making a pick, I'll go with Keyshawn Martin, simply because of his explosiveness and versatility.
2. Andre Johnson will NOT play all 16 games this season.
This could be the main reason why one of the Texans' young receivers will be a starter at some point this season.
No lie. This one pains me. Andre Johnson IS the Texans.
Andre Johnson is also 31 and hasn't played an entire season of football since 2009. For the longest time, the Texans' superstar seemed invincible — I've stood next to the man, he's a beast (also ask Cortland Finnegan ha!) — but in recent seasons, Texans fans have held their collective breath every time number 80 goes over the middle or takes his time getting off the field.
When he is on the field though, Johnson is still one of the best receivers in the NFL but unfortunately for us, Andre Johnson will NOT play in all 16 games this season. He'll play in more games than last season, but not all 16.
Simply put, hamstring, groin, and knee injuries linger. There's no question Dre has played hurt in years past but this year the Texans won't risk losing him for long stretches of the season. Expect the Texans to sit Johnson at any sign of injury in hopes of having him at full strength when it really matters… the playoffs.
3. Matt Schaub will be a Top 5 Quarterback at the end of the season.
There's a popular belief floating around Texans fans and football pundits alike that if Matt Schaub hadn't gotten hurt last season, the Texans would've made it to the Superbowl. As well as TJ Yates hung in there at the end of last season and into the playoffs, this team is going to go as far as Schaubie's right arm and brain can take it.
Schaub may never be mentioned with the likes of Brees, Brady or Rodgers, but by the end of the season Matt Schaub will again be a Top 5 Quarterback in the NFL. Just in a pure statistical sense, when healthy, Schaub has put up numbers to rival any of the "elite" quarterbacks in this league. Before his season-ending injury last year, the Texans were 7 – 3 and Schaub was on his way to a third straight 4000+ passing yard season.
Last season's injury was a freak accident. Schaub was injured in a dog pile when his foot was rolled on by a 300 lb defensive lineman. Yeah, you let Albert Haynesworth put all his colossus weight on your foot and tell me how you're feeling after! This year Schaub has more offensive weapons then he has ever had and is playing for a new contract, he's ready to go.
4. The Texans will go 12 – 4 and win the AFC South.
Yes, I know. Predicting the Texans will win the AFC South is not very bold, but I'm saying it anyways. The Texans will win the AFC South and here are my game-by-game picks.
Dolphins vs Texans — WIN — Expect to see Trindon Holliday's coming out party. Holliday will take back at least one punt or kick off return for a touchdown and give the Texans great field advantage all game long.
Texans vs Jaguars — WIN — A rusty Maurice Jones Drew and a shaky, second year quarterback? Winning.
Texans vs Broncos — WIN — This one scares me. Why? Two words: Peyton Manning. For long time Texans fans, 'nuff said. Texans get the win  but this game is the best candidate for an early loss!
Titans vs Texans — WIN — Picks galore! Texans defense will intercept an inaccurate Jake Locker at least three times this game.
Texans vs Jets — WIN — Texans first primetime game of the season, Monday Night Football. Tim Tebow can't perform miracles on Monday.
Packers vs Texans — LOSS — Texans suffer first loss of the season in game six thanks to Mr. Discount Double Check himself. Aaron Rodgers is gonna eat up Kareem Jackson. Just sayin'.
Ravens vs Texans — WIN — Texans finally get some revenge on the Ravens. Here's hoping for a shootout though… Joe Flacco is my Fantasy QB.
Bills vs Texans — WIN — Mario Williams brings his fat new contract back to Reliant Stadium. He will leave with a loss.
Texans vs Bears — LOSS — If the Chicago O-line hasn't settled in yet and the Texans can pressure Cutler, this could be a win. I get the feeling it will be a tough loss though.
Jaguars vs Texans — WIN — Texans bounce back from tough loss in Chi-town by beating the Jags. Again.
Texans vs Lions — WIN — Turkey Day game will be a win for the Texans. Dre's performance will rehash the Andre Johnson vs Calvin Johnson for best wide receiver in the league debate. That is if Megatron makes it this far into the season without injury. Madden Curse Alert!
Texans vs Titans — WIN — This game has the same feel as the Carolina game last season — a game the Texans should win but don't due to a little too much patting-ourselves-on-the-back. This team should be passed that type of focus loss though.
Texans vs Patriots — LOSS — I WANT the Texans to beat the Patriots. I really do! Too much Brady and too much cold weather though. Texans will get their revenge though… in the AFC Championship Game!
Colts vs Texans — WIN — Andrew Luck should be pretty good at this point of the season but it won't be enough. Game will be closer than it should be though.
Vikings vs Texans — WIN — Adrian Peterson will be locked up in Houston for the SECOND time in 2012. Hahahahahahahahaha!
Texans vs Colts — LOSS — The Texans COULD win in Indy for the first time. Then again, the Texans could rest their vets and prepare for the postseason. Yeah, let's do that instead, this game won't matter.
5. The Texans will NOT win the Super Bowl this season.
I hope I am wrong.
I am a homer. I root for the Texans.
BUT. The home team will fall short in New Orleans. The Texans will NOT win the Super Bowl this season.
They will get there but they won't win. I know. It hurts.
I hope I'm wrong.
Really, Sunday cannot get here fast enough. I need some winning football in my life. It'll be interesting to see how far this talented Texans team can go and of course how many of my predictions will come true (here's hoping they go better than my Astros predictions). What do you guys think will happen this Texans season?
See you all at Reliant on Sunday! Go Texans!