With Houston Restaurant Weeks 2012 fully underway, we decided to make our first stop at Hearsay Gastro Lounge for a weeknight dinner. Located near historic Market Square in Downtown, this cozy American eatery was the perfect way to kick off our 2012 HRW tour with a bang!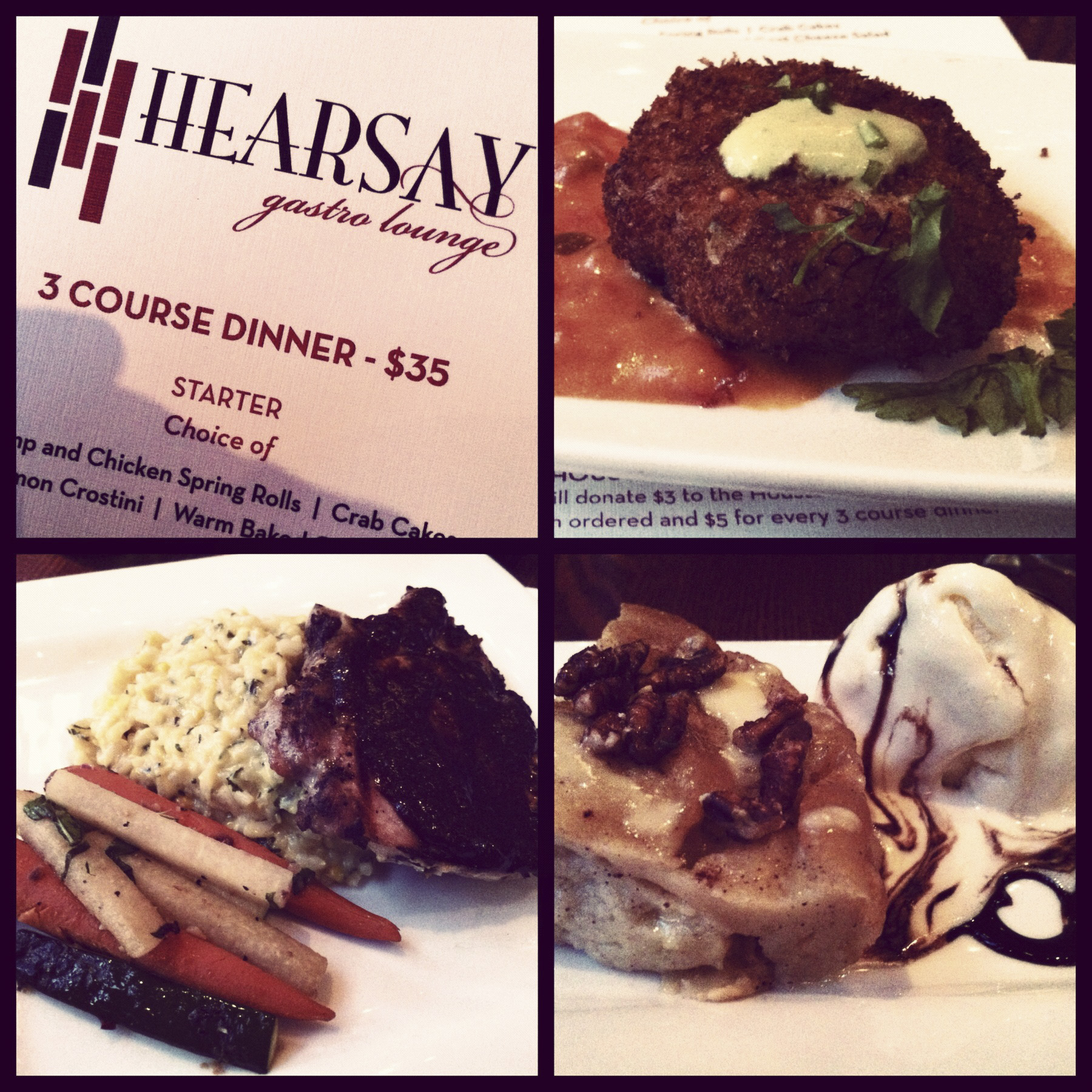 Walking in, I immediately fell in love with the feel, look and ambiance of Hearsay Gastro Lounge. The renovated second oldest building in Houston is not a big restaurant — in fact, I spotted only about 10 actual seating areas not including the bar or upstairs private dining area — but the narrow space doesn't feel small thanks to the building's towering, industrial ceilings. The mix of modern decor with old world Houston architecture makes Hearsay an ideal option for a casual happy hour and/or romantic dinner.
Seriously, take a date here. You can thank me later.
But let's get to the food. That's what you really want to know about anyways, right? It didn't take me long to choose from the Hearsay Gastro Lounge's 2012 Houston Restaurant Weeks menu. Crab cakes for a starter? Yes. Grilled pork chop over a sweet corn risotto for my entree? Double yes. Finish it all off with bread pudding? Yep, let's do this!
By the way, when you're dining with a group and choosing from a limited menu, its natural to want to taste everything. Make it happen! Its part of the fun. On a side note though, my particular order was our waiter's favorite combination. Just saying… its a gift… a tasty gift.
Overall, the Sweet Corn Risotto was the defining star of my meal. Creamy and savory with a touch of sweetness from the corn, the risotto had me going back again and again. The Crab Cake Appetizer was also very tasty — fried to a crisp and full of crab. Although I didn't taste it personally, the Warm Baked Goat Cheese Salad received rave reviews from the rest of my table.
Without a doubt, dinner at Hearsay Gastro Lounge was a great way to kick off our Houston Restaurant Weeks coverage. The great ambiance, the attentive service, and delicious food; if Hearsay isn't on your list of restaurants to try, add it!