Ameerrrrrrrriiicaaaaa! Fuck Yeah!
The Fourth of July is once again upon us Houston and its time to celebrate the freedoms that signify this great nation that we all love and fight for. For me, beyond the historical significance of this holiday, the July 4th holiday means three things: (1) Watching the Independence Day movie marathon… greatest movie speech EVER! (2) Eating burgers and hotdogs… lot's of burgers and hotdogs and (3) Watching a kick ass fireworks show!
This year the holiday falls in the middle of the week which is a bit unusual, especially if you do not intend on taking several days off. So how can you celebrate a mid-week holiday properly? MHL has got you covered with our Top 5 Things To Do On July 4th in Houston.
5. Watch a movie!
July 4th falls right smack in the middle of the Summer blockbuster movie season so a day off in the middle of the work week is the perfect opportunity to catch a flick. Not sure what movies are worth watching? Our buddy Mike from www.iwatchmike.com has you covered with his Top 10 Summer Movies video below!
A movie outing is perfect for the whole family — theaters are air conditioned (its been triple digit heat recently if you haven't noticed) and matinee showings are still fairly affordable. If you're looking for a more adult-friendly movie going experience check out one of the Star Cinema Grills or Studio Movie Grills around town.
4. Have a drink! Or two. Or three.
Ok, so its no secret that July 4th is on the short list of "holidays that are most likely to turn in to a huge keggar". Its right up there with St. Patrick's Day, Cinco de Mayo and Fridays.
So if you're looking to partake in the generous consumption of several libations this Independence Day, definitely check out what your favorite Houston area bar is doing because they are likely offering some great July 4th specials. Here are two bar events that caught our eye.
Howl At The Moon's Red White and Brew Bash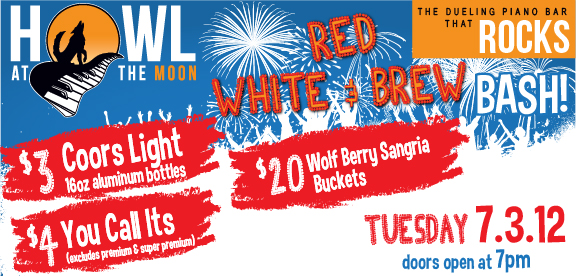 Houston Wave's Bourbon, Burgers and Brews Tour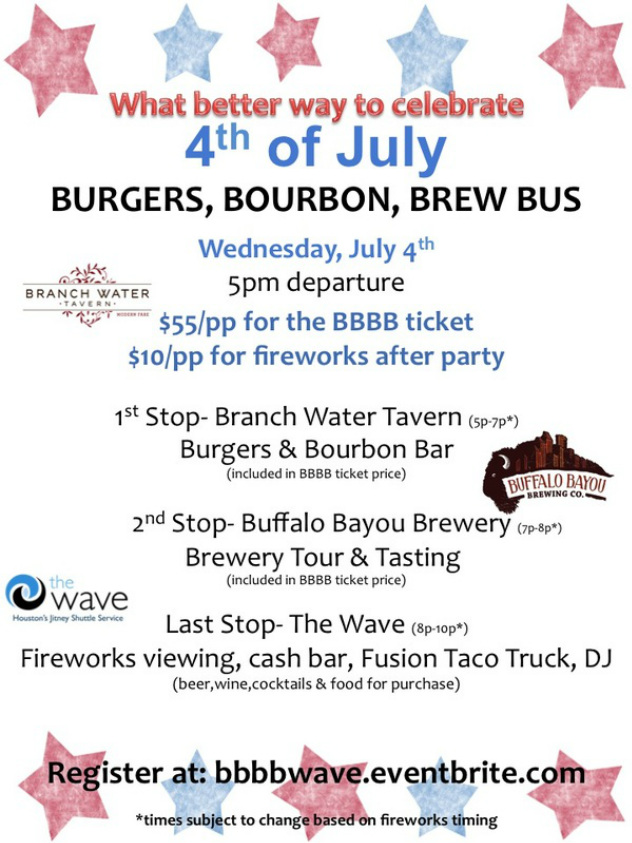 As always please drink responsibly MHLers! MyHoustonLife supports designated drivers!
3. Eat Up!
One thing every full-blooded American knows how to do is stuff their face. In fact, in Houston, we are SO good at eating we've reclaimed our place atop the nation's list of most overweight cities. Help us stay atop the list by firing up the grill and cooking up some good ol' burgers and hot dogs.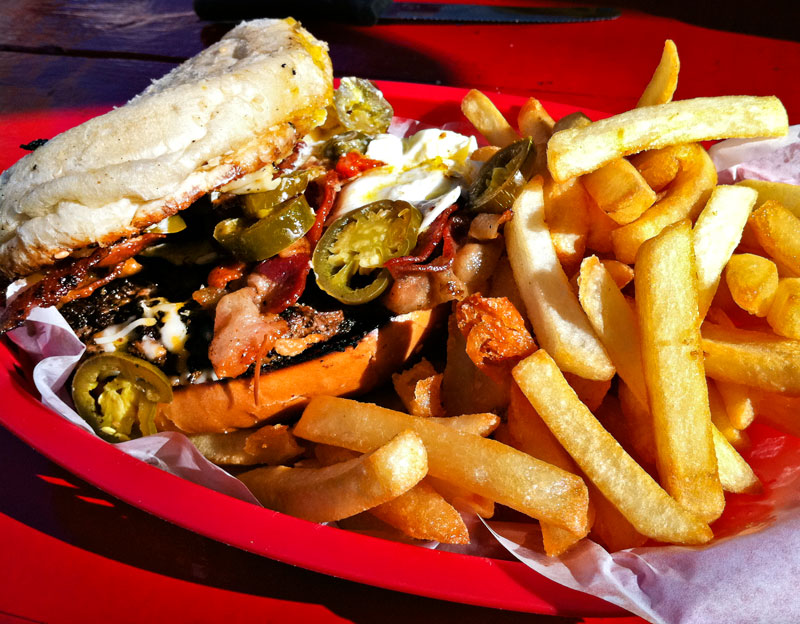 If you aren't much of a home chef, there are plenty of local eateries around town that are offering their best red, white and blue dishes. For some of our favorite burgers in Houston, check out our articles on Lankfords Grocery and Hubcap Grill.
2. Hit the Beach!
You've been hitting the gym since January to get yourself in tip-top shape and its finally time to show off all your hard work at the beach this July 4th!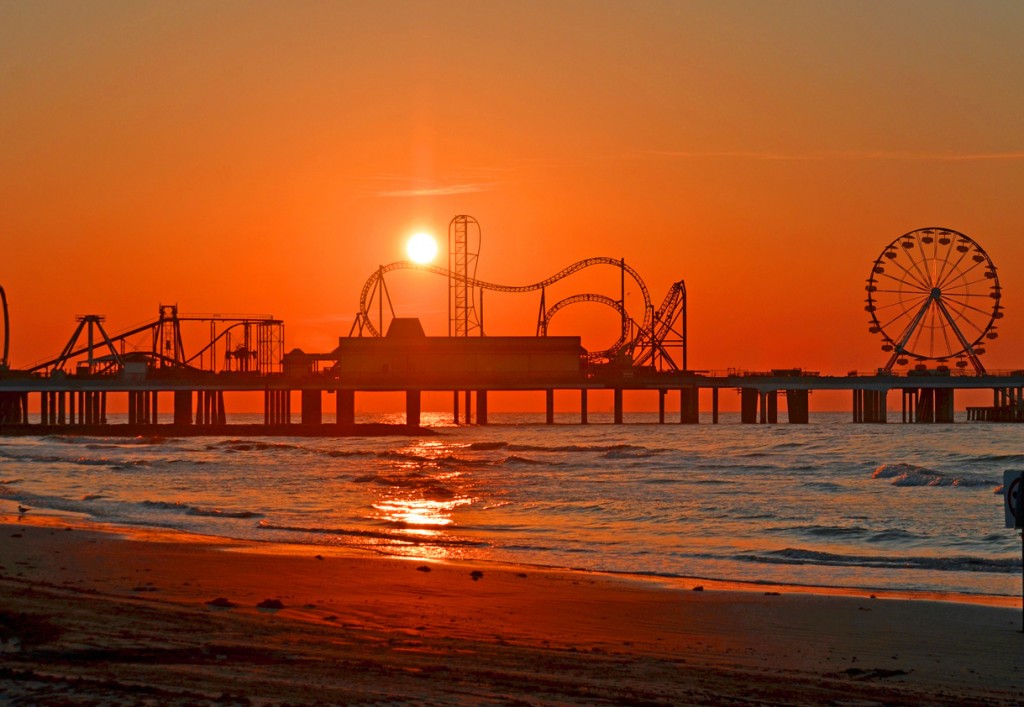 Just 35 miles south of Houston is Galveston, TX, where the small island is seeing a recent revival with its existing theme attractions, Moody Gardens and Schlitterbahn, as well as the recently opened, Pleasure Pier. Of course there is still the miles of beach and beach front restaurants to enjoy. And after a full day at the beach, be sure to stick around for the fireworks show to wrap up your mid-week holiday.
1. Fireworks!!!
Fireworks are obviously an iconic symbol of the July 4th holiday. Whether you're watching a fireworks show or popping your own fireworks (outside of the city limits where it is legal of course), no Independence Day celebration is complete without fireworks. Luckily for us Houstonians, we are home to the nation's largest fireworks display at the Freedom Over Texas festival.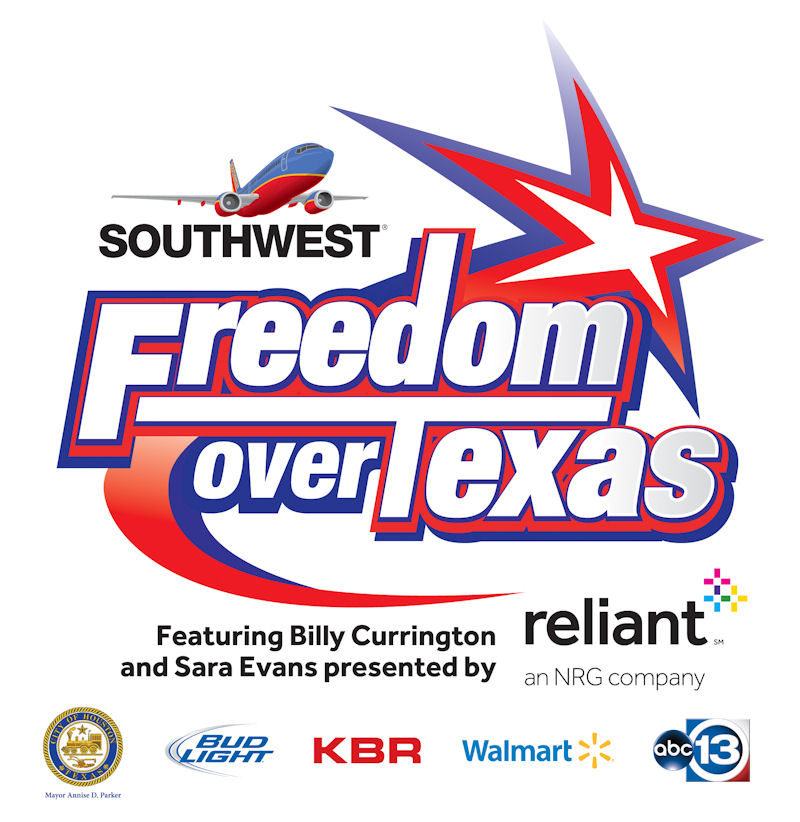 There you have it MHLers, our quick and easy July 4th holiday list o' stuff to do! Put your best red, white and blue threads on and celebrate the great U-S-of-A! What are you doing to celebrate the 4th of July? We wanna know! Tell us in a comment!