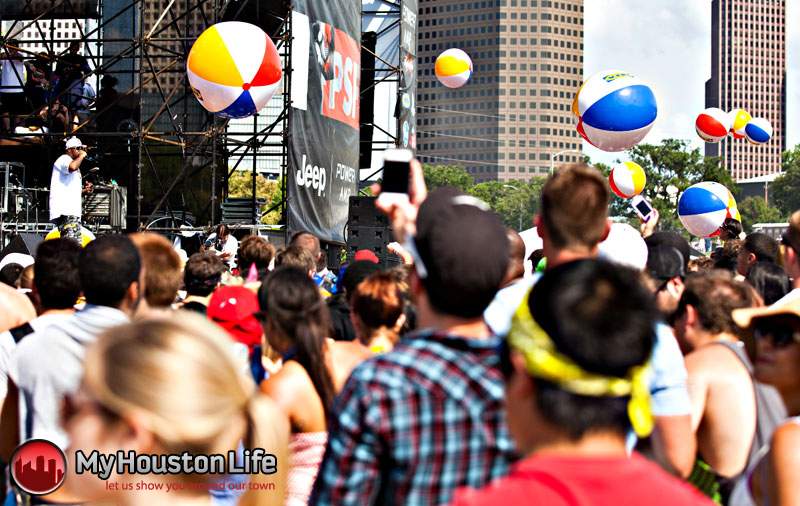 The tan has stuck around, and it's mostly stopped burning when I shower. So I have that going for me.
But, man oh man, it was worth it.
Free Press Summer Fest came and went this weekend, and it was every bit the spectacle that we were promised. We expected amazing performances from artists mainstream and underground alike, art that would blow our minds, and Houstonians who wanted nothing more than to have a good time.
And despite the overbearing Houston heat, FPSF managed to find ways of keeping the fun flowing and the people engaged.
For one, the so-called Fancy Pants tent that we were holed up in was surprisingly comfortable. It was fully air conditioned, furnished, spacious, and had plenty of drinks on tap (we stuck to water, though. On the clock, y'know?). Sure, by early afternoon the tent got super packed by concert goers, but c'mon; there was AC, and it was like a billion degrees outside. I couldn't really blame them.
But, sure, crowds can be a lot to handle for an entire day. Luckily, there was plenty of stuff on the festival grounds for those seeking respite from the heat or eye candy. And it might seem like something trite or obvious, but I really like the way the festival was laid out. Pretty much every vendor, every artist, every activity was right on Allen Parkway. This meant that you didn't really have to go hunting all over the grounds for a specific purpose, you could just take a stroll down the street and eventually find what you were looking for (and what you didn't know you were looking for) because there was no real beaten path. Smart.
It also meant that there wasn't any real stage that was kept out of the masses' eyes. If you didn't play on the two main stages, you played on one of the stages interspersed among the vendors, which surely drummed up more audience by accident for the bands that were playing at any given moment. I discovered a taste for two musical acts myself while looking for samosas and ice cream.
In short, FPSF was well organized, well maintained, and overall a good time. If you didn't make it out this year, you should absolutely consider coming next year.
Speaking of next year, here's something else that FPSF managed to put on display for us: the future. We caught wind of a growing community, a new mindset, bubbling up from the garages and bars and parks and warehouses of the city. Music is coming to Houston in a big way, as many of the artists we had the pleasure of talking to pointed out.
"The platform has changed. When I was growing up in the Houston area, the grassroots music culture was more sereated, more spread out. It was all over the place," explains Matt Hines of The Eastern Sea. "Right when the band began, right around 2008, we jumped into this growth that was exploding in the city."
Exploding is a great way to put it. Around the city, more and more bands are starting to gain recognition for their craft, and it's being fueled from all over the world. Shane Lawlor, Brit frontman for touring act Electric Touch, was drawn to our state specifically for the way that music has swallowed the Lone Star State. "For me, it was intrinsically in [Texas]. I always imagined what it would be like. Whenever I saw America in the movies, there was rock & roll music on, and I always imagined that's what it was, so I came to Texas, and there was music everywhere."
170 miles west of here lies the New Music Capitol Of The World, Austin, Texas. There's no denying that. But as many of the musicians I spoke to during the festival would testify, a lot of that stems from the much more concentrated area to work in. Electric Touch and The Eastern Sea, for example, have much of their roots in the city of Houston, but took to the road to really try and follow their dreams, due to the far more distilled music culture we have at home. It's not necessarily a fault of our citizens, but more a consequence of our sheer size – sure, we have districts and areas where the arts flourish, but nothing has truly become an epicenter of arts like the areas of Austin have.
At least, nothing up until this point.
"Now, Free Press Houston has brought it together. Consolidated it. I've played [Free Press Summer Fest] every year, and I've seen it grow," says Hines.
And, ultimately, that's what excites me about FPSF. The exposure, for the bands of course, but for our city as a whole. It shines a new light on the culture behind HTX, a light that's only thus far been lit in the small bars and clubs that these amazing, talented artists have worked again and again. Or in a small art gallery. Or a secluded photo studio.
For once, it can all come together, all be the center of attention, all in front of thousands upon thousands of eyes. It's a beautiful thing, and it's all ours. We're only now getting to realize that.
And to see it for yourself, you have to make it out to next year's Free Press Summer Fest. I can't wait until you see what your city has in store for you.
Just remember to bring lots of sun block.
For more images from Free Press Summer Fest 2012, check out our Galleries covering each day of the Festival.
Want to join us at the next event MHL attends? Find out where we'll be next by following us on Twitter @MyHoustonLife or Liking us on Facebook.