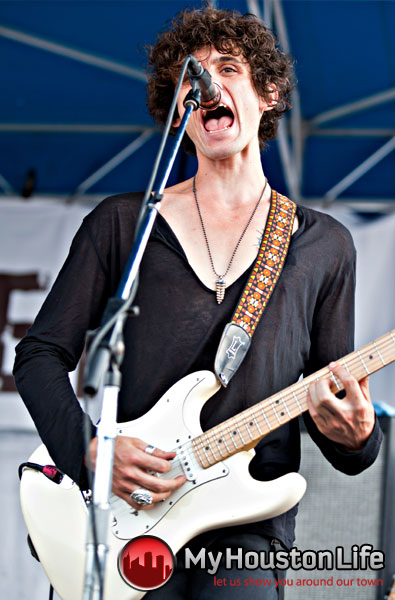 Rock is at its best when two people hear the exact same song and get wildly different reactions. Some bands don't get that.
Electric Touch aims for that.
"We always wanted to make music that people can have a good time to, and have fun with and dance to and sing along with, but we also wanted to put enough in there that, if they wanted to delve a little deeper, there are all these complexities in there and there is just a little bit more than just the face value of it," says frontman Shane Lawlor. "If you don't want to think about it, you just want to put it on and rock out and enjoy yourself, you can do it. But if you wanted to delve a little deeper, I feel that there's enough there that you can do that."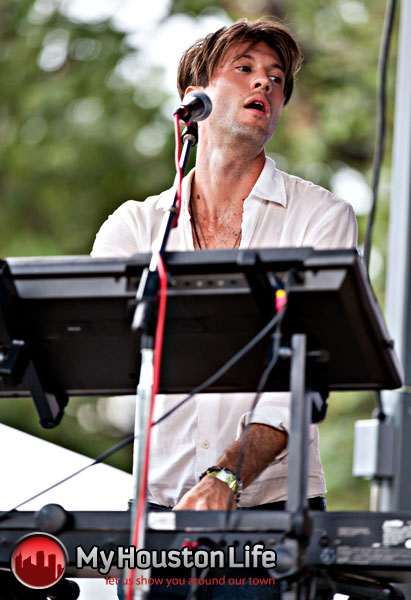 When you listen – when you plug in and sit and really get into listening – to Electric Touch's latest effort Never Look Back, you can hear for yourself how the guys manage to slip in some finely crafted musicianship behind the toe-tapping, British Punk infused surface. It's as subliminal as messages get, and makes subsequent listens to the album all the better. In fact, the lead single of the album, "Don't Stop", showcases just how well the band manages to seemingly blend two songs into one. Lawlor's chorus absolutely soars over drummer Louis Messina's steady back beat, while Portland Musser creates entire landscapes from the hills and valleys of his bass lines. For a real trip, listen to "I Can't Wait", which is brought to life by awesome-comic-book-named Isaac Strycker's keyboard. Yes, it's the same band, with the same parts, but somehow managing to make a different sound altogether.
Never Look Back plays like a mix CD you would have made, with a bunch of your favorite songs, and it's all done by the same band. Having listened to the album, I jumped at the chance to talk to the guys behind Electric Touch during Free Press Summer Fest.
"We can take the world on/We can make it/Just stay strong/We can turn them all on" ~ "Love In Our Hearts", from the self-titled Electric Touch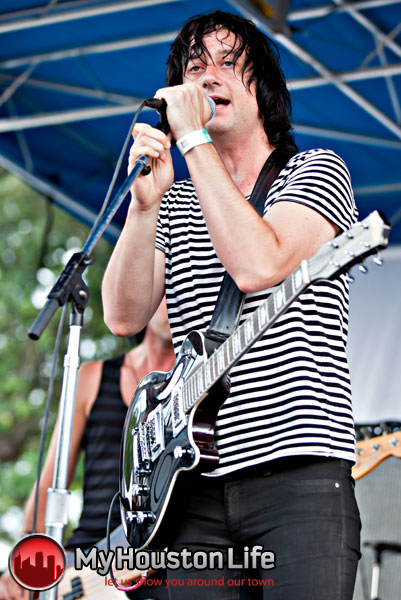 MHL: So the new album, Never Look Back, obviously has a very conversational tone to it. It's all very "I", "you", "we", "us". Was that intentional, does your music tend to be based on life?
It is intentional, really, because when you're writing from the heart, when you're writing with these feelings and emotions, you have to kind of let the inside out. So lots of it is stories from real life, tales that I've heard. Episodes that anybody can be in, whether they were rich or poor, no matter where they lived, this human condition we all feel, and that's what we like to explore in our songs. We generally don't explore stuff that we don't know, only stuff that we've been through, stuff that we've experienced, so there is a lot of first-person there.
Saying that, though, it's not a biography, and we're definitely adding a bit of artistic license in there and being creative with it, because we want to make it possible for lots of people to connect with it. We try to make it about those themes and elements that people can relate to. It's definitely not like a "Dear Diary, today this happened" kind of thing. It's all just about those feelings and stories, and we put it on tape, hoping people can connect with it.
MHL: You mentioned to me earlier about how you were living out your dream, coming to America [from England], playing music, so how did that come about?
Growing up in England, it was very, very different from over here, and I'd always watched American movies and listened to American music, and always wanted to come here. It was a dream to come here. I had a chance to come here with an English group when we were signed in America, and I jumped at the chance. I landed in Texas, and loved it, loved every minute of it, and so definitely feel very fortunate, very lucky to be doing what I want to do, in a place that's wonderful with such great people. The sun is always shining! [Laughs] It's great!
It is like a dream come true, to be up on stage, playing your songs to people that want to listen. To jump in a van, be driven across the country, and experience things that not everybody gets to experience. It really is living the dream.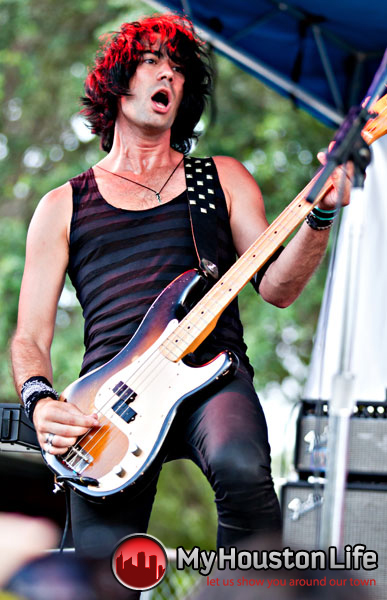 MHL: Your sound on both your self-titled album and Never Look Back is very interesting. Very British punk influenced, but with an underlying complexity behind it. How do you guys go about putting such a unique sound together?
We try and make it exist on both levels, we take a long time writing this material, pouring our heart into it, and trying everything really, to get it just right. Hopefully people do recognize that there's more to it than just a five minute little pop song that we just wrote without much feeling. We put everything into it.
It's just like life. Life is very complex. Underneath the surface, there's all this drama and romance, and sometimes it's difficult.
MHL: So the music reflects life.
It always does, especially for us. We wear our hearts on our sleeves, and that's what we choose to talk about. I think people know if you're making it up or not. With us, it's real.
MHL: Speaking of your audience, very much in line with the conversational tone of your lyrics, there is a lot of the album that approaches and almost adviser like tone, as if relaying a message to the listener. Is there anything in particular you would like your listeners to gleam from the album?
Yeah! To never look back! To love yourself, and love everyone else, and persevere. Life can be difficult, but you overcome.
Our two seconds in the limelight, or whatever it ends up being, we choose to take those moments to tell you something positive, something that people can learn from, as opposed to narcissism or something like that. Those precious moments that we have, when people are gonna listen to it, we want them to get a positive message from it. It's not always the "coolest" thing to do, but it's the right thing to do with our time and the opportunity that we have.
MHL: You guys are in the middle of a tour right now, playing tonight at Free Press Summer Fest. How does it feel to know that you've come to this point, and what's next for you guys to accomplish?
We always like to go to New York City, and Los Angeles, because we know so many people there, and so many trends get started there. We'd also like to tour Europe soon, see if the English like the English [Laughs]. We've always dreamed about going to Japan, too, and touring there. Our dreams tend to be coming true a lot, so I keep dreaming about going to Japan, and maybe it'll happen next year. We'll see. [Laughs] Dreams and hard work, we'll go everywhere that people want to see a rock & roll show. We love the experience, love meeting new people. We love coming to Houston, y'know, our neighbors, we love playing here. A lot of history for us here; we played our first ever show here, in Houston. We love it, so we'll definitely be back in Houston a lot.
MHL: What is the biggest thing you'd like fans, new and old, to know about you?
Well, we're the hardest working band in rock & roll right now. I think for many, we're the last bastion of accessible rock & roll music that isn't buried in niche or cliche, and not overproduced. We believe we have something that people can connect with, stories from the streets, stories from the city. Tales of ordinary life in glorious technicolor. I think it's a good ol' fashioned rock & roll show, if you give it a chance and come out, if you want to have fun, you can have fun with us.
Must Download Tracks:
1. "Don't Stop" – Never Look Back
2. "Give Me A Sign" – Electric Touch
3. "I Can't Wait" – Never Look Back
4. "Alone" – Never Look Back
5. "Love In Our Hearts" – Electric Touch
 Available on iTunes and AmazonMP3
Never miss another Electric Touch show! Follow @ElectricTouch on Twitter, and Like the band on Facebook. Be sure to visit ElectricTouch.com to get more information about the band!