Remember those commercials for a Vegas vacation where an incredibly beautiful person dives into a sparkling pool, swims up to a floating bar filled with equally beautiful people and takes a drink from a cocktail made by a ridiculously beautiful bartender?
Yeah. Me too.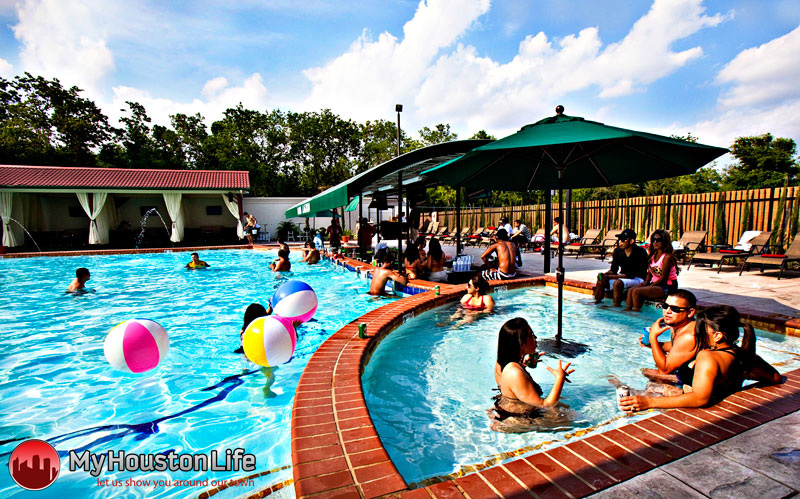 So if you're like most people, you aren't going to hop on a plane and jet off to Sin City every time you want a mojito served to you while you float in a pool surrounded by attractive people. Then again, why travel all the way to Vegas when you can experience the entirety of that pool party fantasy right here in Houston at the new Maya Lagoon?
Tucked away behind the trees of North Houston, Maya Lagoon is the latest in unique Houston hot spots opening just in time for the summer. Yes, it is a little hard to find. And yes, it is a little out of the way. But the drive away from the chaos of the inner city simply adds to the mystique and draw of this local getaway.
"To be honest Maya Lagoon is located where it is located because I want it to be Houston's hidden secret." [laughs] ~ Teddy Bacero
Last weekend we were invited out to Maya Lagoon's soft opening for a sneak peek of the new venue and consider us very impressed. We sat down with one of the co-owners, Teddy Bacero, to find out some more about Maya Lagoon.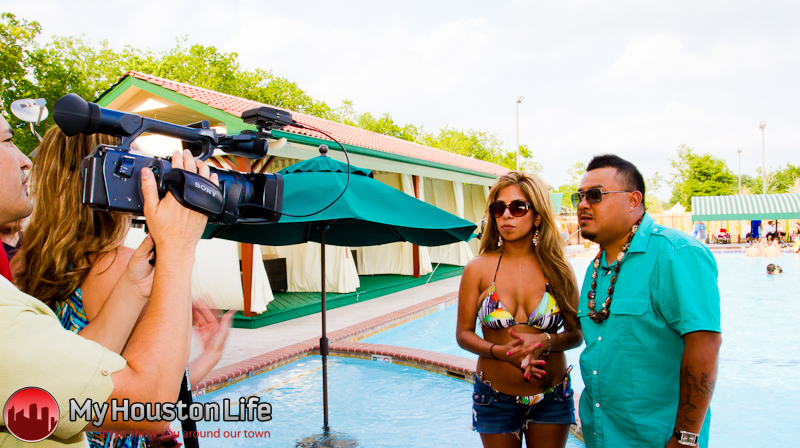 t-align: justify;">MHL: This place is beautiful. What's the story behind Maya Lagoon? Where did the idea for a pool bar in Houston come from?
TB: Maya Lagoon was built in 2010 at Maya Park, a privately owned and operated soccer park, for recreational use. It was mainly built for guests and their families to use during and after the soccer games.
In November 2011, I had a vision for what potential the pool could offer to the Houston community after being inspired by a pool party in Las Vegas that is held at the Hard Rock Hotel and Casino. Called REHAB and held on Sundays from 10am-8pm, this pool party draws tourists, artists and celebrities from all around the world to the Vegas pool for food, drinks, live music, and bottle service.
MHL: What do you think will draw crowds to Maya Lagoon?
TB: I think my fellow Houstonians will be drawn to Maya Lagoon because there is no other venue in Houston that can offer this type of pool party. Instead of driving to Galveston, Conroe or Banana Bend, you can stay in the Houston city limits and get that same experience here — if not better.
MHL: Maya Lagoon is located far away from the other Houston hot spots — it's kind of out by itself. What was the thinking behind that?
TB: To be honest Maya Lagoon is located where it is located because I want it to be Houston's hidden secret [laughs].
MHL: Are there concerns with people getting drunk while in or near a pool?
TB: Of course we will cater to the safety of our customers that will be drinking all day. I am confident in my security as well as my staff that they will always be on their P's and Q's when it comes to safety and customer service.
MHL: What is next for Maya Lagoon? What's coming in the future?
TB: Whats next for Maya Lagoon? Maya Lagoon is here for the people. We are here to show everyone a good time and create a great atmosphere. We will cater to different events during the summer so you just have to stay tuned and check out the ideas we come up with!
We do have a big event coming up for Memorial Day Weekend. It will be our official grand opening for both Saturday and Sundays. Saturday we will be supporting all naval officers in Hawaii, so what better tribute than to host a luau? We might even have some Hawaiian natives come out and have an actual pig roast! Stay tuned to the Maya Lagoon page on Facebook to see what we have in store in the future!