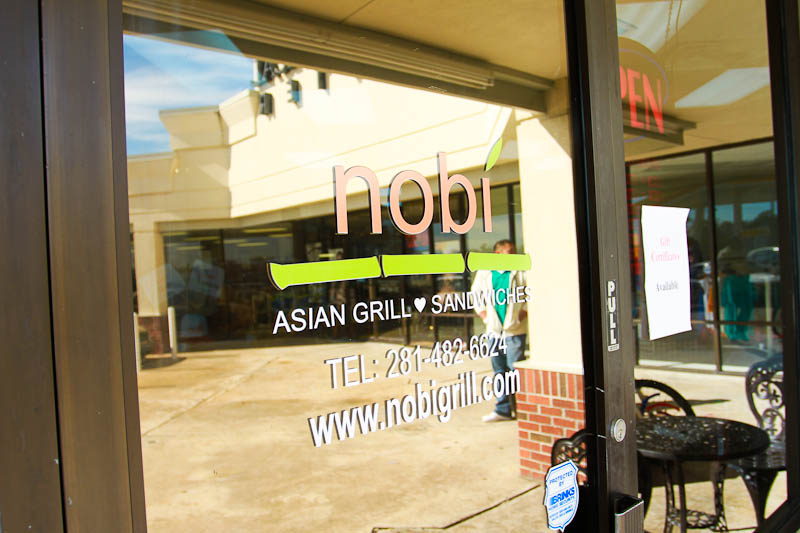 You know what's rad? Fire.
Fire is the greatest thing to ever happen to man. It's been awesome since the very first caveman witnessed lightning strike the Earth, watching it ignite a flame, and turning to his caveman bro and saying "Dude. DUDE. Get a stick." So while we really haven't evolved much from our inherent need to light every damn thing ablaze, as we got smarter and animals got deliciouser, we perfected the art of grilling our food over open flame to bring out all that juicy, meaty taste. And Friendswood area's Nobi has that open-flame-grilling down pat.
Nobi isn't a huge place. It sits in the middle of a small shopping strip, surrounded by a Shell gas station and a few other shops. But you wouldn't know how small the place is by reading the glowing reviews that patrons are giving it on all sorts of social networks and user review sites. Nobi's reputation is far larger than the cozy interior, and with good reason; the cooks at Nobi know their way around their grill, making everything here extra tasty.
This throwback to traditional Asian cooking methods gives every dish at Nobi an amount of care that other restaurants lack. Sure, the ingredients in Nobi's Vietnamese sandwiches are pretty much the ingredients in EVERY Vietnamese sandwich, but they have an extra oomph here because of the grill. The open flame, as expected, makes for juicier, more tender meat than what you might find elsewhere. And this goes across the board, from sandwiches to salads to Vermicelli noodle dishes.
Speaking of those noodle dishes, Nobi makes sure to hook you up. The bowls are gargantuan, daunting, and almost impossible to finish in one sitting, and none of it is made up of "filler" food. No, the bowls consist of noodles, meat, and a few veggies for garnish and taste. That's it. The vermicelli is elegant in its simplicity, bold in the way it doesn't rely on any outside flavoring apart from the char-grilled meat. This dish could easily be rendered bland if its components weren't expertly prepared. Thankfully, they are, and the dish triumphs because of it.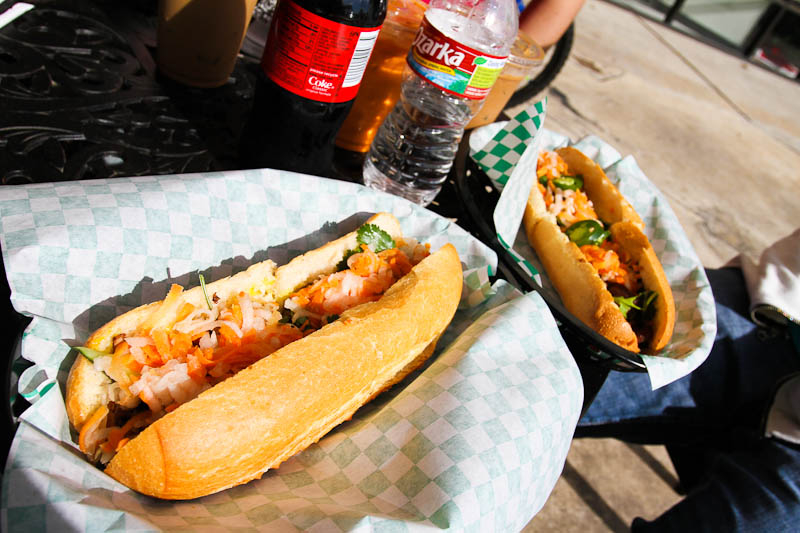 Equally deserving of praise are the sandwiches, which Nobi prides itself on. Right there, on the sign, is "Sandwiches". The meat, of course, is fantastic. But even going beyond that, the other parts of the sandwich all have a freshness to them that's immediately noticeable on first bite. There's a crispness to the vegetables, a quality to the bun, and it's all proportioned very well without giving too much of any one kind of flavor. Once again, Nobi doesn't go out of its way to over-prepare its offering. The flavor of the meat is given room to star, and every bite is given that "special" treatment.
This theme of freshness and attention to detail can be seen all over Nobi's small but focused menu. There are only two dozen or so menu choices, but that's alright – the menu has clearly been designed with the idea of maintaining a quality control over the selections that are offered. The egg rolls aren't overpowering. The fried shrimp has a satisfying crunch to it. The Thai Tea is sweet and compliments everything. And not everything is super traditional. Nobi offers up tacos and nachos, again, enhanced by the delicious grilled meats. Something to be taken into consideration with Nobi's philosophy on food is how good it all is for you. The meats, while seasoned, don't overload on the salts or drip with oil. Nobi is by no means a "health" spot, but it's certainly miles better than, say, the local burger joint.
You don't have to be a steakhouse to know how grill up some damn good meat, and you don't have to be a fast food joint to make simple, delicious meals.
And that's something that Nobi just gets.