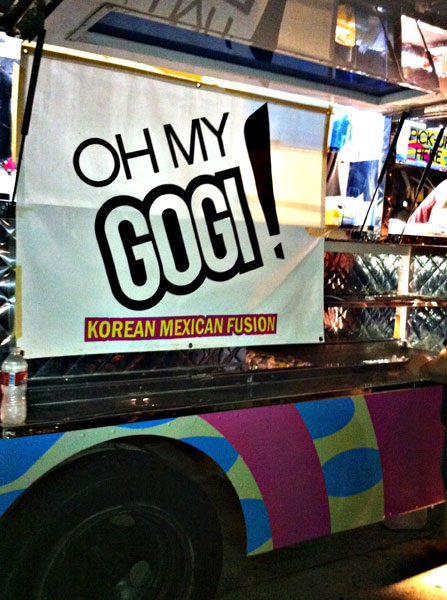 To borrow a snippet from the popular 90s sitcom, Friends — [left-hand] Korean Food? Good. [right-hand] Mexican Food? Good. [put your hands together] Korean-Mexican Food? Goooooooooooood!
The Oh My Gogi [pronounced go-jee] food truck combines the sweet and savory flavors of Korean barbecue with the bold flavors of Mexican street food. Upon the recommendation of several Houston food-truck-goers, this MHLer tracked down the Oh My Gogi truck outside the Bronx Bar in Rice Village to try it out first hand.
The mouth-watering aromas of Korean marinated meats sizzling away on the truck's grill had attracted not only myself but several bar patrons as well. Together we anxiously awaited to place our orders for Korean/Mexican Tacos, OMG Fries, and Kimchi Quesadillas. I decided to go with a classic — well as classic as Korean-Mexican fusion cuisine goes — beef and pork tacos.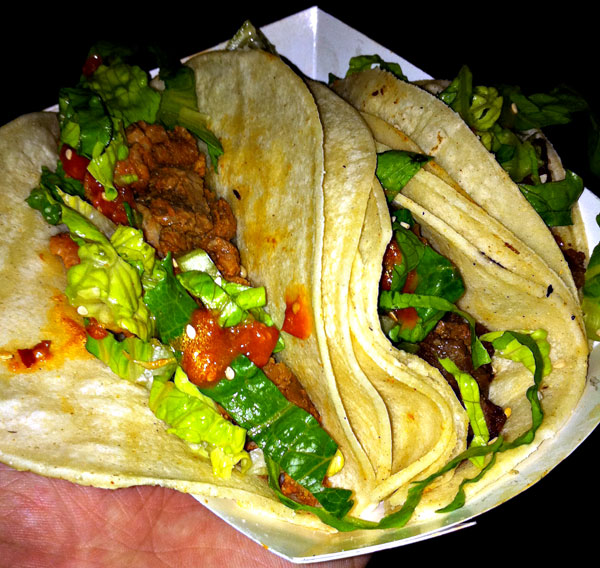 The tacos come served in either sets of twos or threes, street vendor style. Wrapped in corn tortillas, the Korean marinated meat is definitely the star of these tasty tacos — which makes sense since the rough translation of their name is actually oh my meat! Tender and grilled to perfection, the sweetness in the Korean marinade gives the meat a balanced, savory caramelization. The tortilla itself could have benefit from some more time spent on the grill, but that could just be my personal taste — I like my corn tortillas a bit more on the toasty side for a contrast in texture.
If your palette is open to sweet and savory flavors and you're looking to try something a little out-of-the-ordinary, check out the Oh My Gogi truck. It may give you a new use for the acronym, OMG.
Follow the Oh My Gogi food truck on Twitter @OhMyGogi, to find out where they are setting up tonight!
Photos